July 2022 - Alisha Nielsen
American Preparatory Academy – Apparel Store We've Got You Covered!
SKIP THE LINES AND SHOP EARLY AT ONE OF OUR POP-UP STORE LOCATIONS LISTED BELOW.
Please note that quantities are limited on some items, specifically plaid items.
BLOW OUT PRICES on High School Grey Pants for boys and High School Blue Pants for girls.
Order anytime online. www.americanpre.org/store
Clearance items are available at pop-up stores only. Come check it out!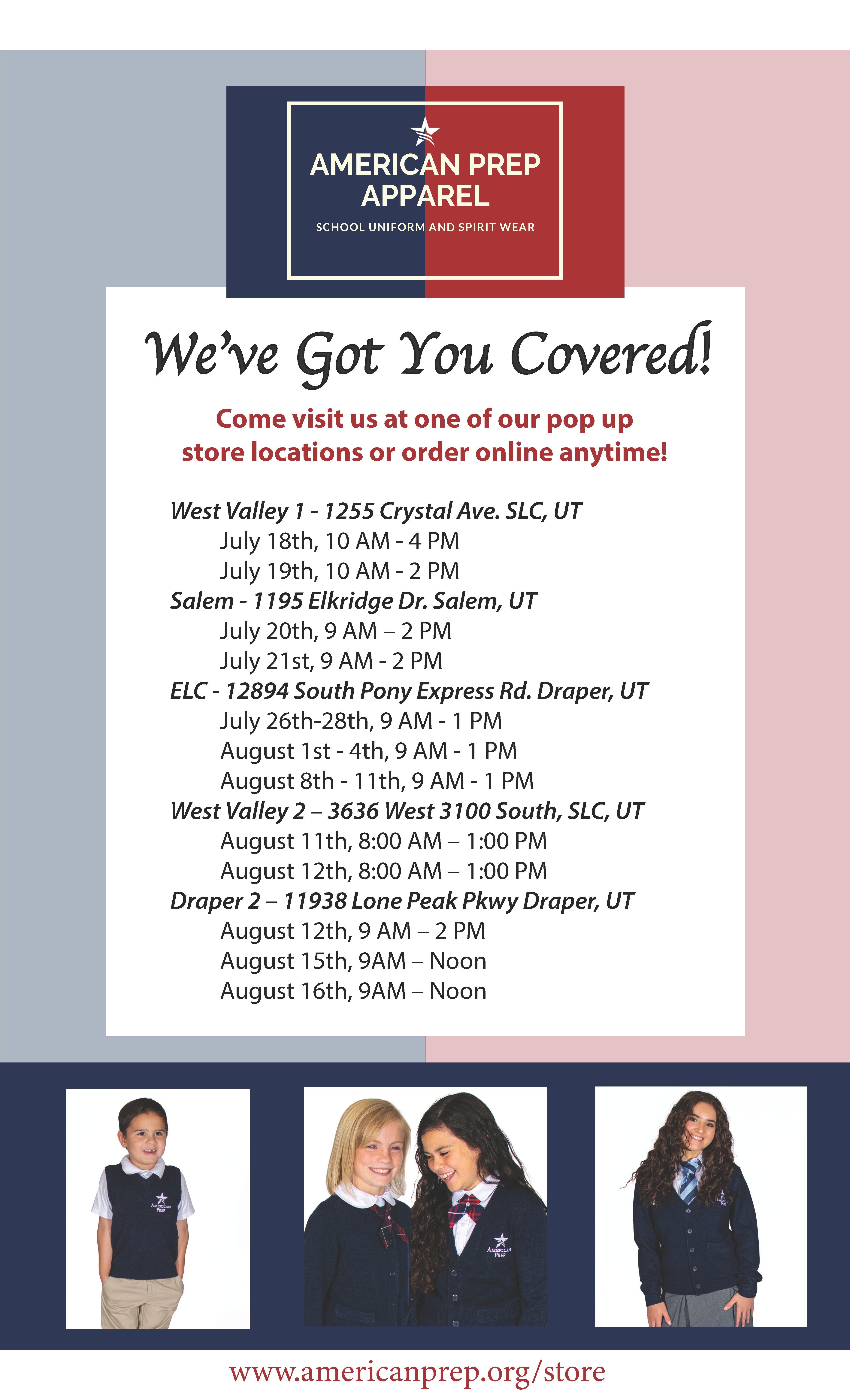 ---
March 2022 - Alisha Nielsen
The Apparel Department is proud to present the Second Annual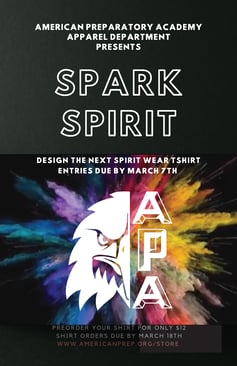 Spark Spirit Campaign.
Design the next Spirit Wear T-Shirt!
Download your entry form and be sure to get it back to the school or email it in by March 7th. Email entries to apparel@apamail.org.
Click to download the Entry Form
20 chosen designs will be given APA Apparel Store Credit
10 chosen will get a sponsored gift card
TOP CHOSEN DESIGN WILL BE PRODUCED AND SOLD AS LIMITED SPIRIT WEAR, and STUDENT WILL RECEIVE A FREE T-SHIRT OF THEIR DESIGN
TO PREORDER YOUR LIMITED TIME SPARK SPIRIT TSHIRT, PLEASE VISIT WWW.AMERICANPREP.ORG/STORE
---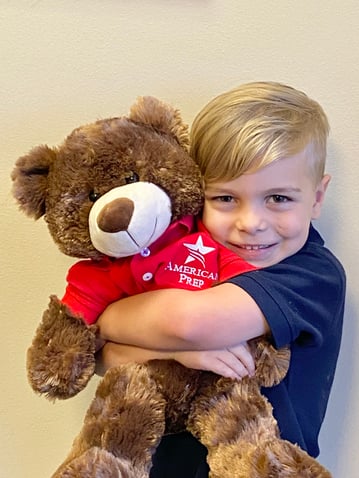 January 2022 - Alisha Nielsen
Do you love your APA student? Of course, you do!
Show them how much you care this coming February by preordering our custom APA Teddy Bear. https://www.americanprep.org/product/apa-bear/
The Teddy Bear comes in either a red shirt or navy dress with a white embroidered APA logo.
Personalize this gift by leaving your message in the notes section at check out. Their bear and note will be delivered to them after school on February 11th. It's a great way to surprise your little loved one with something special.
Reminders
Bear quantities are limited and may vary in fur color.
You can either pick up your bear at the front office during the school day on Feb 11th OR it will be delivered to your child after-school in a non-see-through bag.
To avoid distractions, students will be instructed to keep the bear in the non-see-through bag until they are picked up at carpool.
Orders must be received by February 9th

in order to be ready for delivery.
Please email
apparel@apamail.org
with any additional questions.
THANK YOU!
Apparel Department
---

July 2021 - Alisha Nielsen
Alisha Nielsen is our Brand Merchandising Manager for American Prep. Alisha has worked tirelessly to procure the best apparel and spirit wear available for our schools. If you have students attending APA or are new to our school, Alisha has some excellent news for you.
APA will hold in-person uniform sales in July and August at our campuses. If you shop in person at one of our campus sales, you will have access to blow-out clearance items.
Please see the schedule below for remaining sales and email Alisha, anielsen@apamail.org, with any questions.