November 2023 - Sarah Olsen, Character Development Curriculum Administrator
Every year, 11th grade APA students attend an Interim legislative session at the Capitol. "Interim" means "in between," so the Interim meetings are the ones that happen in between legislative sessions. During these meetings, legislative committees hear reports from experts and discuss bills that they want to present during the upcoming session. Since Utah's legislative session is only 45 days long, legislators need these meetings to research and properly prepare the bills they want to pass.
These meetings are also where our students get to watch their legislators in action. Senators and Representatives have civil debates about different policies. This is also the only place where citizens can give public comment to committees about a bill. During the Education Interim Committee meeting, two APA students – Noah Whitcamp and Madeline Badger – gave public comment about a highly-debated classroom neutrality bill. This was a great moment for our students to understand how the legislative process works and how they can play a role in that process as concerned citizens.
After the committee meetings, some students had time to tour the capitol building. Representative Thurston took a group onto the floor of the House and talked to them about how the voting process for a bill works. Going onto the floor of the House is a very rare opportunity as usually only legislators and certain invited people are allowed in that area. Our students had an amazing chance to see behind the scenes and hear from a Representative about how he tries to balance the wants and needs of all his constituents. Representative Thurston said the hardest part of the job was knowing that he can't make everyone happy, since many of his constituents are on deeply divided sides of many issues. However, he tries his best to listen to them and make the decision he feels would be the most correct.
Other students that day got to see a rally taking place in the Capitol rotunda that was advocating for better child abuse prevention programs. Another group of students was able to observe an event commemorating Brad Wilson's final day as Speaker of the House. Most of the students also got to tour the Capitol building, viewing some of the historic sites and artifacts and learning more about how the government works. Our students learned a lot in just the few hours that they were at the Capitol, and we hope this experience prepares them to be invested citizens!
Click below to see our APA 11th-Grade Interim video.
---
October 2023 - Sarah Olsen, Character Development Curriculum Administrator
Every fall, the Character Development Department hosts a Barn Event for 8th graders. Students participate in a series of activities and mini workshops where they learn many social etiquette skills. Some students start off right away with line dancing where they learn confidence and the importance of a willing attitude. After dancing, students have the chance to eat delicious food and practice social courtesy, such as letting someone else go first through a line, pulling out a chair for someone, and picking up after themselves.
No party would be complete without some games! Students participate in a hobby horse relay, a three-legged race, and a potato sack jump. They learn the power of encouraging others and the effect their behavior can have on the rest of their teammates.
There are several other workshops at the event, including one
where students learn how to be a good listener and get to practice good communication skills. Students also learn about gratitude, and they even create beautifully hand-written thank you notes to give to someone in their lives.
One of the students' favorite stations is the one where they learn how to overcome challenges by watching a woodcarver create beautiful art right in front of them. They learn that they might face challenges that seem to chip away at them, just as a woodcarver chips away at a piece of wood. It's
uncomfortable, and might even feel scary. However, all of that
chipping away helps the woodcarver create a beautiful work of art. The challenges in their lives help shape them into a better and more resilient person.
The Barn Event is an exciting activity that is always one of the highlights of the year. Students have fun for a day, but they also learn lessons for a lifetime.
---
September 2023 - Sarah Olsen, Character Development Curriculum Administrator
In just a little over four weeks since the school year began, American Prep students have participated in five service projects impacting thousands of Utah families!
St. Vincent de Paul Homeless Shelter, 1,292 Peanut Butter and Jelly Sandwiches made to date with the help of WV1 6th grade students and D3/WV3 10th grade students
Day of Caring with the United Way, seniors from WV3 packed 650 backpacks for Usana Kids Eat and
Packed shipments at the Utah Food Bank to be delivered to regional food centers.
D3 raked and reseeded 2400 square miles of natural grassland at Mehraban Wetlands Park and removed debris and trash out of the wetland ponds.
8th-Grade W.O.R.K. Party
W. O. R. K. Party: On August 30th and September 6th, 8th graders from Draper 3 and West Valley 3 campuses had the opportunity to participate in a W.O.R.K. Party. "W.O.RK." stands for "Wonderful Opportunities to Render Kindness." Students had the chance to show kindness and give back to their communities by volunteering at several local parks, community centers, and historical heritage sites. They pulled weeds, picked up lots of trash, applied fresh coats of paint, and generally did their best to clean up and beautify the areas.
At one park, after picking up trash for an hour, students asked why APA does this since the park would likely get trash in it again. One of the teachers there responded by telling an experience she had while living in Italy on the border by Switzerland. Many Italians smoke, so cities would often place public ashtrays and trash cans along the sidewalks. However, many people wouldn't care if their spent cigarettes made it into the trash or not, so the sidewalk around these trash cans was often covered in cigarettes. By contrast,
whenever she would cross the border into Switzerland, she noticed that the streets were meticulously clean. It wasn't necessarily that Switzerland had more trash cans or more city workers to sweep the sidewalks, but the people took more care to ensure their trash didn't end up on the sidewalks. The attitude and actions of the people in each community made the biggest difference.
One of the goals of the W.O.RK. Party is to help students learn to take pride in their communities. Students learn that their attitudes and their actions can have a big impact. They learn that being good members of the community means taking care of community spaces. They learn that they don't need to wait for someone to give them a job or tell them what to do – they can go out and make a difference all on their own. Each location that our 8th graders served at was very grateful for their help. Some of the locations look forward to this event every year because they know how much help our students will be. APA is grateful for the chance we have to give back to our communities!
---

August 2023, Sarah Olsen - Character Development Curriculum Administrator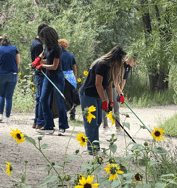 A week after starting their senior year, 12th graders across all campuses at APA gave back to their communities by participating in a Day of Caring. Originally organized by the United Way organization – a national nonprofit that connects volunteers, charitable organizations, and their communities – the Day of Caring is an annual day of service where volunteers give back by donating their time and talents to local organizations.
APA's 12th graders gave back this year by cleaning up their local parks. They picked up trash and beautified the areas. A few of the groups also volunteered at the Utah Food Bank and USANA Kids Eat. At the Utah Food Bank, students sorted through donations to ensure all the food was still in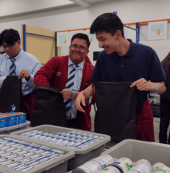 date and ready to be given away. At USANA Kids Eat, students packed bags of food for in-need children and their families. USANA expected the students to be able to pack 400 bags of food in the hour they had – instead, APA students packed 650! USANA was so grateful for our students' effort, as were all the other locations APA served.

August 2023 - Dan Bazan & Sarah Olsen
Each year, our high school administrators take our 9th and 11th-grade classes on an inspirational hike to empower and prepare them for a future they can be hopeful for. It was that time of the year again at the end of August – when high school students from Salem, Draper 3, West Valley 3 campuses embarked on their annual hike, a tradition that brings them closer to nature and life's invaluable lessons.
Ensign Peak serves as the backdrop for West Valley 3 and Draper 3 9th graders as they hike with their school leaders and receive a message that may shape their journey through high school. The rugged trail didn't just lead to a summit but to newfound friendships and shared experiences. With fresh faces joining our student body each year, the hike has become a melting pot of stories, a coming together of individuals on the verge of transformation.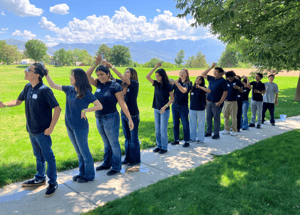 At the top of the trail, Mr. Sheneman, the Draper 3 School Director, shared a simple yet profound message – "life, much like the trail ahead, isn't always straightforward." Sometimes, we may walk through fog, where decisions might not be crystal clear, and our experiences may not make sense at the time. "But that's alright." he reassured our students. "In the journey of life, clarity arrives at its own pace, often slowly unfolding, revealing its true significance only in hindsight." Mr. Sheneman encouraged them to be open to learning from their experiences long after the experience ends and reflect positively on their growth.
Mr. Winegar delivered a similar message to West Valley 3 9th graders, and Salem 9th graders also heard an inspirational message on their hike. Students hiked back down the trail with renewed confidence and motivation for their high school years ahead.
But it wasn't all about conquering the trail this week. Our students also engaged in educational games, building trust and camaraderie among old and new classmates. Games like Trust Rope taught students how to rely on each other, while Team Skiing showed them how to work together.
Meanwhile, Mr. Peterson led the West Valley 3 11th graders on a hike through Wild Rose Trail in North Salt Lake. Our students' hiking experience was more than just a physical journey but a narrative about the power of decisions. Small choices, he emphasized, can have resounding impacts – some that can reshape destinies. He emphasized that they are about to enter a decade that will shape their education, career, and personal lives. Mr. Peterson shared that within the next several years, they will decide where to go to college, where to work, and who to engage with in relationships. These decisions will open new paths and make pursuing other courses difficult or impossible. He encouraged everyone to remember that risky behavior can devastate their plans and to avoid it at all costs. He encouraged them to think about their opportunities and how there is no better time to make positive choices, complete their school work, be punctual, and work as hard as possible to be the best students they can be to prepare themselves for a successful and exciting future.
We are thankful for our students' participation in these hikes and grateful to our administrators and the Character Development team for investing time and wisdom in our students.
---
If someone called out, "List the 20 enumerated powers of Congress!", it would typically cause bewilderment; however, this past April, it sparked a flurry of activity among young scholars across Utah who buzzed in to demonstrate their deep understanding of the United States Constitution, our nation's bedrock.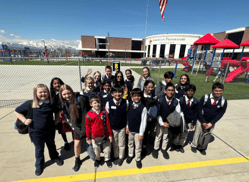 The Constitution Bee, a unique knowledge contest for children in grades 4th -12th, encouraged students to dive into the roots of our governance system. Over 130 enthusiastic students participate in this event across elementary, junior high, and high school divisions from all over the state. Although the Bee was primarily a competition, it has become a platform for camaraderie, shared laughter, and new friendships among participants.
American Prep was excited to have students from Draper 3, Salem, and West Valley 3 campuses participate in the Bee this year. Our West Valley 3 Junior High and High School teams each took 2nd place in their division securing $500 in total prizes.
Reflecting on the experience, Senior Brandon Batjav said, "Interacting and engaging with peers from diverse schools was both enlightening and enjoyable."


Many participants discovered a shared passion for civic responsibility, nurturing a sense of unity among them.

"I was pleasantly surprised by the fun atmosphere and the number of peers excited to learn about the Constitution," shared 6th grader Natalie Christenson.

This event attracted young leaders from rural, urban, and suburban regions of Utah. Like the founding fathers over two centuries ago, they were united under the banner of the Constitution, a testament to its enduring relevance.

High School Team:
Daniel Christenson,12
Elise Christenson, 10
Dylan Bolman, 12
Ondrej Hutcherson, 12
Brandon Batjav, 12

Junior High Team:
Jacob Brady, 9
Nephi Sevillano, 9
Lisa Newton, 7
Isaac King, 8
Giovanni Garcia, 7
We were very excited that all elementary campuses participated in their own events at the Utah State Capitol. For many of our elementary students, this was their first visit. They were wowed by the grandeur of it all.
We are grateful for our amazing teachers and coaches who coached and practiced with our students for weeks prior to the competition. Thank you to our JH and HS Faculty, including Ryan Thomas, John Baucom, Ellee Taylor, Dave Passmore, and Madlyn Dade as well as the many administrators and parents who helped our students prepare for this tough and fun secondary competition.


Our elementary faculty mentors included Cody O'Brien, Gabrielle Swaner, Kristen Smith, Irene Christensen, K'leena Furniss, and Candys Bonzo. Of course, our elementary superstar parents were in attendance and helped their children prepare as well.
Special thanks to Lewis Nielson, our APA bus driver, who played a very integral part in making sure that the teams that were in the Playoff round were given a fair shot to advance. He saw a problem and suggested a solution to the organizers that they implemented, and teams were able to compete fairly. Thank you, Lewis!


A special note of thanks to Dalane England and the Freedom's Light Foundation for their generous sponsorship of the Utah Constitution Bees!

Click Here to learn more about the Freedom's Light Foundation and its mission.

Click Here to download the Constitution Bee study guide to help you become an expert on the United States Constitution.



---
Introducing a New Tradition: Empowering 6th Grade Students with their Own US Constitution!
May 2023 - Mandy Brown, Character Development Coordinator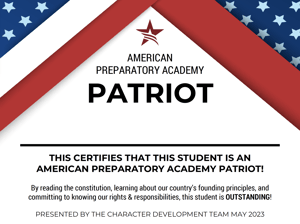 Our 6th-grade students engaged in a new and exciting activity this month. As part of our commitment to fostering good citizenship and cultivating a deep understanding of our rights as US citizens, our 6th-grade students were presented with their very own copy of the US Constitution to add to their personal libraries.
The goal of this special initiative is to encourage our students to maintain a lifelong connection with the US Constitution. By having their own copy, they are inspired to continually read and familiarize themselves with this historic document, which serves as the bedrock of our nation's principles and freedoms. It is our hope that through this activity, we instill in our students a deep appreciation for the value and significance of the rights and liberties the Constitution affords us all. It is also a celebration of our students having read this important document each September as a school.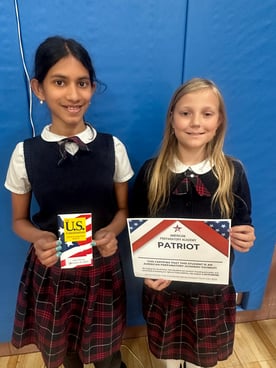 During the celebratory event, our 6th-grade students showcased their knowledge of
our government and country, reflecting their commitment to understanding the principles that make our nation strong. This activity, newly introduced this year, has become an important milestone for our students as they embark on their journey toward becoming informed and responsible citizens.
We firmly believe that by equipping our students with their own US Constitution, we empower them to participate actively in our democracy. It is through their continued exploration of this treasured document that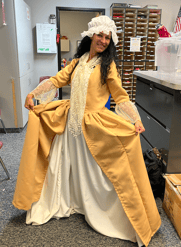 they will develop a strong sense of civic duty, advocate for justice, and appreciate the invaluable freedoms that are the cornerstone of our great nation.

We are immensely proud of our students for embracing this new tradition, and we extend our deepest gratitude to the teachers and staff who have made this activity possible.
Let us celebrate this significant milestone as we cultivate a generation of informed, engaged, and patriotic citizens who will carry the torch of liberty for years to come!
Brightening Lives: American Preparatory Academy Students Serve their Community
May 2023 - Maddi Tapp, Character Development Coordinator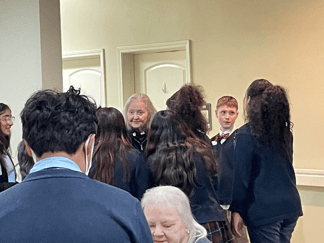 In a heartwarming display of compassion and community engagement, American Preparatory Academy's 7th-grade students embarked on a mission to spread joy and connect with the older generation. They visited various care homes across the Salt Lake Valley, extending their caring hands and brightening the lives of residents. This act of community service aligns with the school's dedication to character development, fostering empathy, and learning from the experiences of those who came before us.
Spreading Joy at Rosewood Assisted Care Center: Amidst a large cohort of 7th graders split into smaller groups, one group was assigned to the Rosewood Assisted Care Center in Salt Lake City. Upon arrival, our students warmly introduced themselves and expressed their eagerness to engage with the residents. They brought along many activities, including table games like Bingo, Chess, and Uno, craft stations, and even a fingernail painting station.
A Language Barrier Overcome: During their time at Rosewood Assisted Care Center, the students encountered a sweet resident who seemed particularly reserved and faced challenges communicating with the care center staff. It was soon discovered that she hailed from Russia and spoke no English. Fortunately, Mikhail Fedorov, a 7th-grade student fluent in Russian, was part of the visiting group. Mikhail quickly recognized the situation and began conversing with her in her native language, bridging the communication gap. With Mikhail's assistance, the other students were able to connect with and learn from her. His exceptional translation skills and empathy helped the resident feel included and valued in the activity.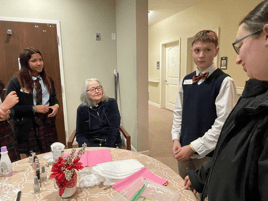 As the time came to bid farewell and return to campus, the once-quiet resident of Rosewood Assisted Care Center had blossomed into a beaming individual. It was evident that Mikhail and the other students had made a significant difference in her day, creating moments of happiness and genuine connection.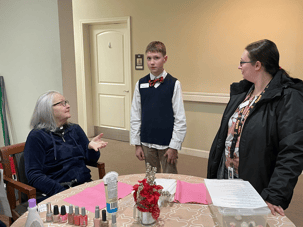 American Prep care center visits like this one exemplify the power of empathy, kindness, and the profound impact that young individuals can have on the lives of others. Through their commitment to character development and community involvement, these students not only brought joy and companionship to the elderly but also showcased the beauty of intergenerational connections. Such acts of selflessness resonate deeply, reminding us all of the transformative power of service and the importance of fostering caring communities.
---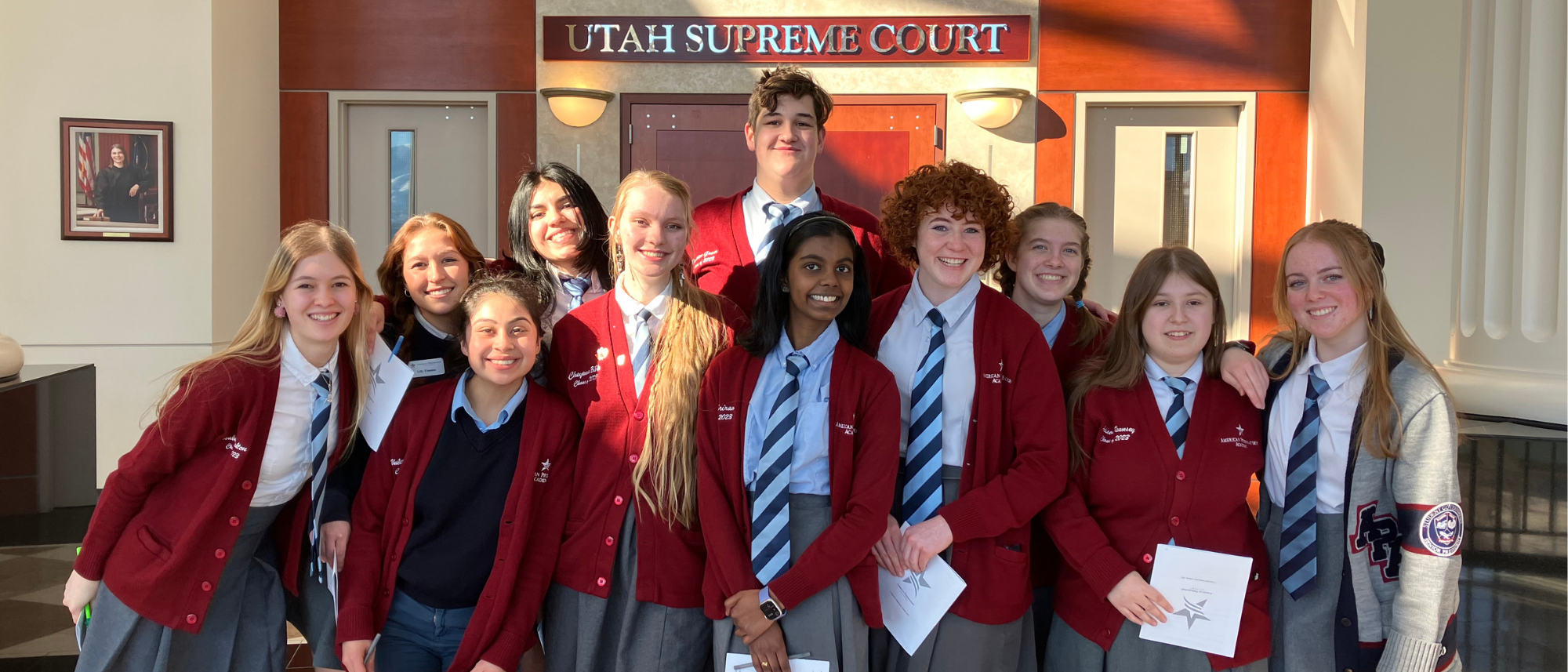 March 2023 - Catherine Findlay - Character Development Director
At American Prep, we consistently strive to provide our students with unique opportunities to gain insight into political and judicial processes. On February 10th, our 12th-grade students from West Valley 3 & Draper 3 had the privilege of attending oral arguments at the Utah Supreme Court.
Before their visit, each campus thoroughly examined a case that was scheduled for argument. This study led to engaging and insightful discussions among the students helping them connect what they have learned in class to a real-life case. These experiences are vital in helping APA students grasp the intricacies of the justice system and appreciate the checks and balances in place to ensure fairness for all parties involved.
During these visits, our students observe courtroom etiquette and witness professionals in action, further inspiring many to consider pursuing careers in law or politics. Our field trips to the State Capitol also play a crucial role in fostering these aspirations.
West Valley student, Emily Santana, shared her gratitude in a letter to our Character Development Director, Mrs. Findlay: "Thank you for the opportunity to witness a Supreme Court Case. We were fascinated by the attorneys' body language, the opposing arguments, and even the contradictions in the presentations. One of the highlights was receiving a warm welcome from one of the judges, who gave us a brief overview of the case. When it was time to leave, many of us wished we could stay until the end."

D3 student Sadie Squire recounted her experience visiting the Supreme Court at the Scott Matheson Courthouse for the Goldberg vs. Nelson and Tetrick case. The case centered around a possible conflict of interest, as the judges had previously been accused of mismanaging Goldberg's funds. This visit was particularly historic for Utah, as four out of five judges present were female – a first for the state.
Our students greatly appreciated the opportunity to witness firsthand how a supreme court case unfolds and to hear the defendants' perspectives.
---

February 2023 - Catherine Findlay - Character Development

The St. Vincent de Paul Dining Hall is a partnership with multiple businesses and churches. One of their service initiatives, organized by the Catholic Community Services, is to serve two hot meals each day to those in need in Salt Lake City. The cooks and volunteers at the center also make meals for six other local homeless service providers! The sandwich initiative focuses on providing peanut butter and jelly sandwiches to help the most vulnerable people make it through the night until their next meal.


The St. Vincent de Paul Dining Hall is a partnership with multiple businesses and churches. One of their service initiatives, organized by the Catholic Community Services, is to serve two hot meals each day to those in need in Salt Lake City. The cooks and volunteers at the center also make meals for six other local homeless service providers! The sandwich initiative focuses on providing peanut butter and jelly sandwiches to help the most vulnerable people make it through the night until their next meal.
Our American Prep sandwich campaign began in November, making approximately 400 sandwiches each week! On our last delivery, March 1st, we will have been involved for 16 weeks. Every campus has had an opportunity to make a difference by making sandwiches! It only takes 25-30 students 45-50 minutes to assemble and bag about 400 sandwiches!!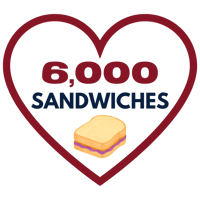 The Character Development Service team, led by Traci Judd, would pick up the sandwich supplies from the dining hall and returned the completed sandwiches the next day. Mrs. Judd reported on the experience; "The people working in the kitchen were always so grateful for our students' helping hands to make these sandwiches! We joined their team in a small way to serve those most in need. I was humbled by the numbers being served in the wintry cold climate. Some were huddled under boxes or tarps, waiting to enter the dining room to escape the cold and receive some food."
With just one hour of service each week, our students made over 6,000 sandwiches this year!! American Prep students made a difference, and we are grateful for their giving hearts.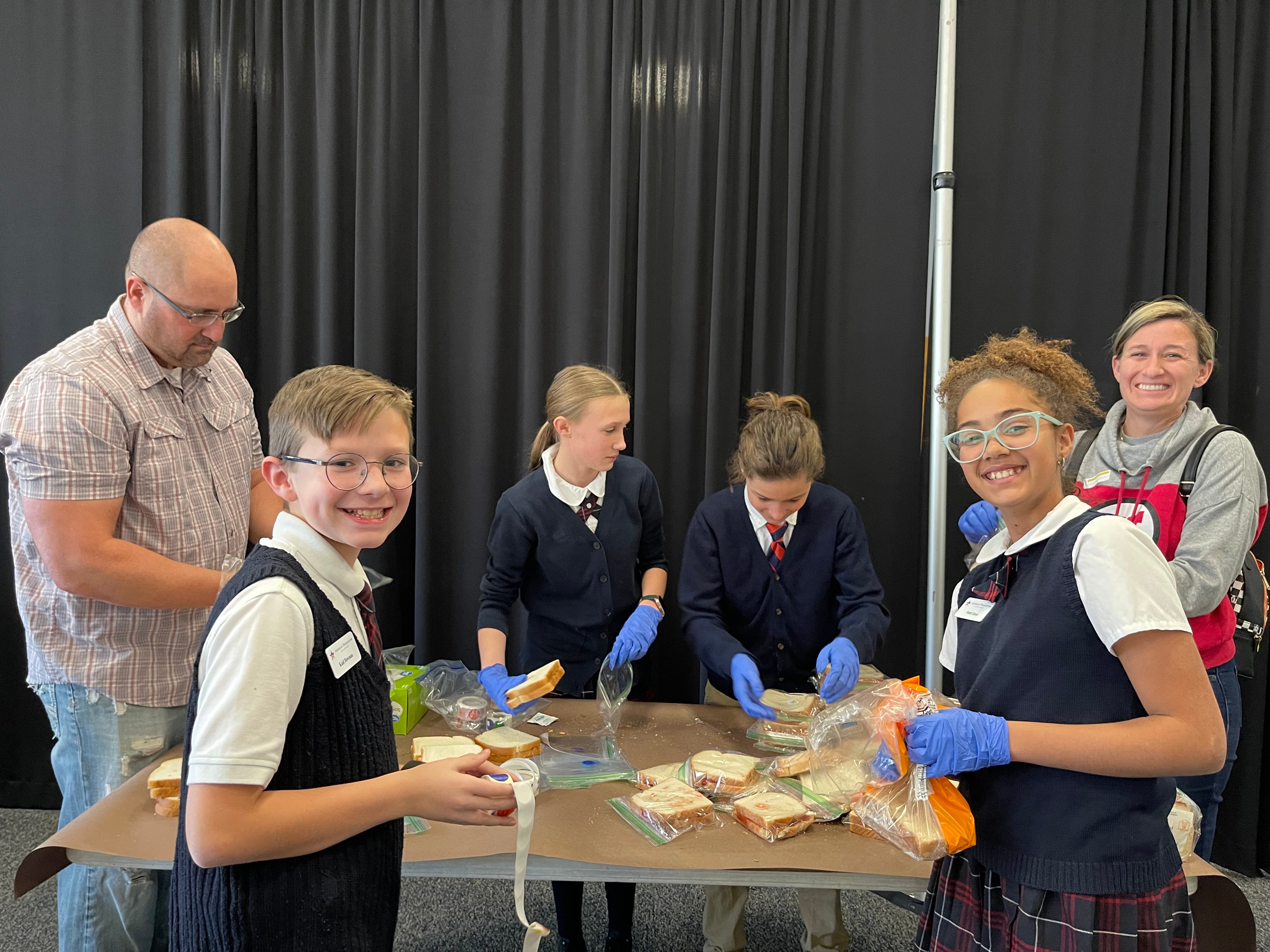 ---

September 2022 - Catherine Findlay - Character Development Director
LOOK EYE to EYE, SMILE, and SAY HI!
Our kick-off friendship campaign for 2022 was a hit! The message to "be a friend" was made simple by learning the jingle, "Look eye to eye, Smile and say Hi!" This jingle introduced the key elements of how to be a friend, make a new friend, and keep friends.

Being friendly is a skill that takes practice. When you look someone in the eye, smile, and say Hi, the result is a happy feeling for the friendship giver as well as the receiver.
Students received buttons and stickers with the jingle, "Look eye to eye, smile and say Hi!" and some won prize tickets from their teachers as they exemplified friendly behavior because… FRIENDSHIP MATTERS. No matter your age, everyone wants to feel welcome and included. This jingle can be practiced at home, grocery stores, church, or other family events. As an APA family, use this new jingle at home and try out all the different places it can be practiced. Being friendly makes our world a better place. We hope these few words will stay with our students for years to come and make friendliness a mastered skill. You never know what impact your smile and greeting might make in the life of another person.
Each year, our Character Development team works hard to lead APA students through many service-oriented projects and activities designed to build character and inspire leadership traits. This year has been amazing. Our APA student service hours are inspiring for the first month of the school year. We hope you will have conversations with your students about their experiences serving others and what they learned during their Character Development activities.