At American Prep, we believe that inclusive education benefits all students. Parents who founded our school had students with special education needs but had negative experiences with the stigma of "special education". These parents wanted their students to develop their full academic potential but most importantly, they didn't want their students to be labeled and thereby identified as "disabled" by their peers.
We designed a program where our students with special needs could receive the specially designed instruction they need alongside their peers to the greatest extent possible. This is called the Least Restrictive Environment which is a very important requirement of special education.
Our approach hires many supplemental employees who help us keep our students with their peers to receive their education. We know that with Utah's high rates of anxiety, depression, and attempted suicide among our children it is vital that schools do all that is possible to ENSURE that we are creating a safe and protective environment for students with disabilities, who are even more vulnerable to those challenges than non-disabled students.
Our results show that our Special Education students are thriving in our program. They perform higher academically than similar students in other programs in the state.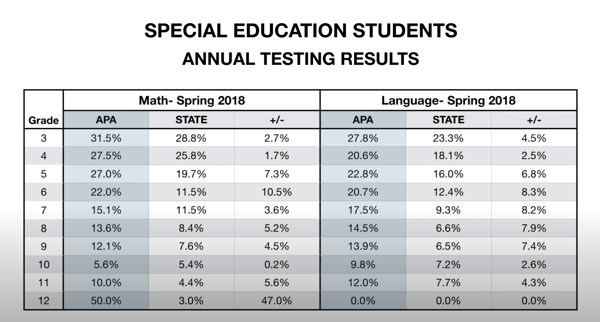 APA is committed to providing a proactively protective environment for our students with disabilities. Our model is innovative, effective, and fully compliant with IDEA.
Please watch this video to learn more about our approach to special education.