At its core, American Preparatory Academy is a tuition-free college preparatory school focused on delivering the best education possible to students all over Utah.
We are excited to celebrate another year of success in the US News & World Report Best High Schools Rankings. American Preparatory Academy Draper 3 campus received a ranking of #1 in College Readiness and increased to #3 Overall Salt Lake City High Schools.
"At APA, Draper 3, we offer 14 AP courses, and we work hard to have an above-average ACT score. Most of the standard courses we offer at APA are honors-level courses that challenge students' daily preparation for college. We also help each of our students apply to the college of their choice, several backup colleges and apply for scholarships. This allows our students to achieve academically and focus on their future endeavors in education. Our focus on academic achievement and character development pairs academic ability and work ethic, making students more able to succeed in any endeavor they choose. Many of our students choose college and are well prepared to take that step." - Brad Sheneman - Draper 3 School Director
Even though challenges in 2020 put a pause on classes, athletics, and graduation celebrations, our American Prep students accomplished lofty goals, served communities, and continued to pursue higher education.
These are just some of the ways APA is succeeding in preparing our students for the future.
2021 - #1 in College Readiness and the 3rd Best High School program in Utah - US News & World Report

2020 - #1 in College Readiness - US News & World Report

Our APA seniors received over $4.5 million dollars in scholarship awards in 2020.

Over 90% of our seniors who graduate enroll in college programs.

Two of our West Valley students, Jazmin Miramontes and Joseph Anthony Torres, were the recipients of the

2020 Daniels Fund scholarship. This is a comprehensive four-year scholarship that will change the trajectory

of these students' futures forever. Learn more about the Daniels Fund program here.

American Prep students qualified for the

National Merit scholarship every year since 2015 with Semi-Finalists in 2015, 2018, and 2019 as well as Finalists in 2018 and 2020.
American Prep graduates have been accepted to universities all over the country, including the University of Utah, BYU, Utah State University, New York University, Berkley, Cornell, MIT, University of Southern California, UCLA, and many more.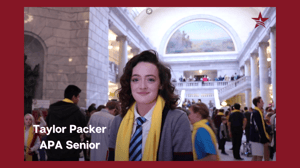 Click Here to learn about one of our fantastic American Prep alum, Taylor Packer. She exemplifies the American Prep character that our staff strives to nurture in our schools.
To learn more about our American Prep or to apply, click here.
To learn more about the US News & World Report High School rankings, click here.